WELCOME TO TEXAS LEGAL FORMS
I've put together a library of Texas-specific legal forms that I have used throughout my 25 years of practicing law here in the great State of Texas. It goes without saying that I'm very proud of my forms. What makes the legal forms on this site different than the ones you may find at Nolo.com or Legalzoom.com are that all of my forms have been battle-tested: they have been used, negotiated, edited, and re-edited in real life situations. While every case is different, Texas Legal Forms is a great place to get you started. If you don't see something you need, reach out to me and I'll see what I can do. Happy shopping!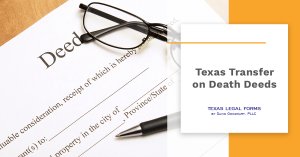 There's good news for Texas estate planners and all Texans who are looking to avoid probate. Many of you may not know that since September 1, 2015, our legislators down in Austin passed a new law permitting the use of what is commonly known as a Transfer on Death Deed. Similar to other estate…
Sign Up For My Newsletter
Get the latest articles sent directly to your inbox!