WELCOME TO TEXAS LEGAL FORMS
I've put together a library of Texas-specific legal forms that I have used throughout my 25 years of practicing law here in the great State of Texas. It goes without saying that I'm very proud of my forms. What makes the legal forms on this site different than the ones you may find at Nolo.com or Legalzoom.com are that all of my forms have been battle-tested: they have been used, negotiated, edited, and re-edited in real life situations. While every case is different, Texas Legal Forms is a great place to get you started. If you don't see something you need, reach out to me and I'll see what I can do. Happy shopping!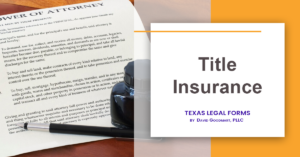 You cannot buy real estate without obtaining title insurance. I say this at least once a day to clients interested in buying real estate.  In my 30 years of practicing real estate law, I have seen so many title problems. Buyers who find out – after closing – that their seller failed to pay their…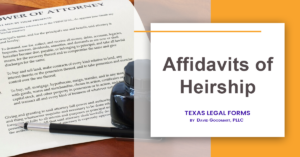 Affidavits of Heirship When a loved one passes away, the answer to the question of who gets the decedent's stuff is not so obvious if the loved one died without a Last Will & Testament. If I had a dime for each time a surviving spouse said they automatically inherited their spouse's interest to their…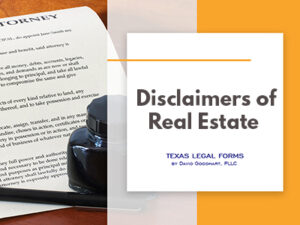 Believe it or not, you don't actually have to accept property you inherit from a loved one. While most people do accept property left to them by their parents, for example, in a Will, there are many situations where a person might not want to take title to inherited property. The inherited property might be…
Sign Up For My Newsletter
Get the latest articles sent directly to your inbox!